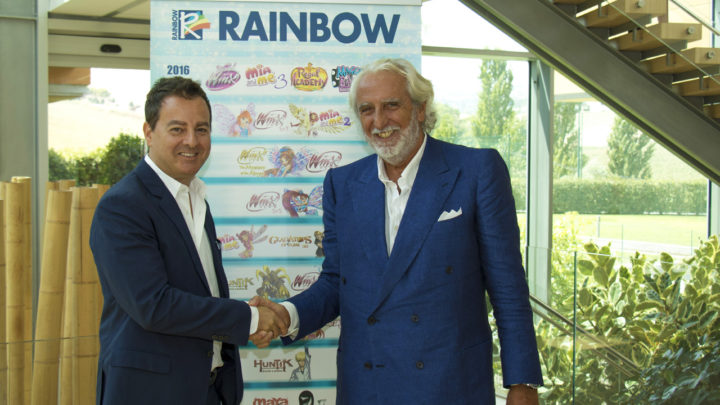 Rainbow, the content company renowned through the world for its animated and multimedia productions, has acquired a majority holding in the Iven S.p.A. group.
Iven was founded in 1986 by the show business agent and producer Maurizio Totti, the Oscar-winning director Gabriele Salvatores, the actor Diego Abatantuono and the actor Paolo Rossi. A wide-ranging group, it includes film and television production company Colorado Film, artistic management and talent management company Moviement, and recording company San Isidro Edizioni Musicali. It also has a stake in production and distribution company Gavila srl.
The combination of these two centres of Italian excellence creates a major entertainment hub whose aim will be to consolidate and build on the two companies' combined achievements in Italy and to increase expansion abroad. In particular, after the success of the live action teen series Maggie & Bianca Fashion Friends, Rainbow plans further investment in the live action sector and to broaden its target audience to include young adults.
Just as the 2015 acquisition of animation studio Bardel Entertainment Inc enriched Rainbow's animation production  capability, this latest agreement gives Rainbow strength and expertise in the live action market. Rainbow's landmarks to date include worldwide hits Winx Club, World of Winx, Maggie & Bianca Fashion Friends, Regal Academy and many others.
Rainbow is a major player in the entertainment market, both in Italy and the world, with a reputation for innovative productions created with great attention to detail and meticulous care. It is not only one of the most significant and best-known animation studios at the international level, it is the largest in Europe with more than 900 employees and a widespread network of freelancers and collaborators.
Iginio Straffi, Chairman and Founder of Rainbow, said: "This acquisition is part of an expansion strategy that includes new fields of entertainment; our aim is to clearly establish Rainbow as a multimedia, multi-genre platform. This union with the Iven Group will enable both companies to expand their reach to more market segments, and to focus more strongly on international markets. We are also delighted to be working with group partners like Colorado Film, whose bold investments in the Italian entertainment world, know-how and financial soundness will, we are sure, be further enhanced and encouraged by working with us."
Maurizio Totti, Chairman of the Iven SpA group said: "Our aim from the outset was to position the group as a multimedia content producer: from cinema to advertising, from TV series to entertainment, from soundtracks to talent management. The union with Rainbow and its international platform will grow and expand the quality and quantity of our proposals, making them even more attractive and successful in Italy and abroad."