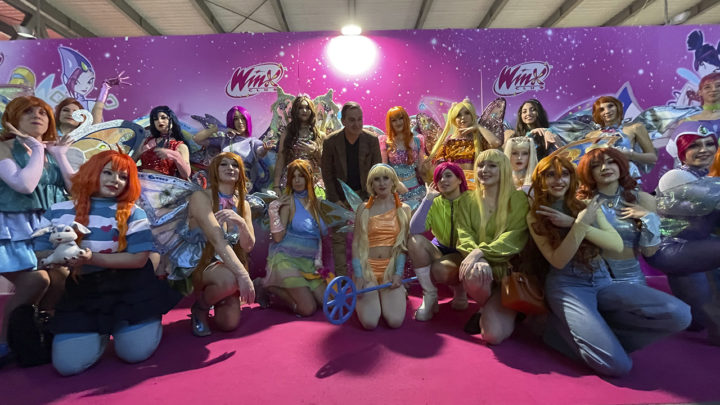 On Saturday 26 November, the Milan Games Week & Cartoomics 2022 hosted the official gathering of cosplayers inspired by the Winx, the iconic fairies born from the visionary genius of Iginio Straffi, to take part in the final of the Winx Cosplay Contest, the national and international competition to award the best cosplayers inspired by the characters from the TV series.
The jury of representatives from Milan Games Week & Cartoomics, Epicos and Rainbow, after selecting one Italian finalist (Roberta Tomaiuolo) and one international finalist (Julia Marie Bohem, from Berlin) among the many entries received since the opening of the online contest, declared Roberta Tomaiuolo the winner of the contest. The jury also awarded 3 special bands for "Best Wings", "Best Make-up" and "Best Performance".
On this particular occasion, Iginio Straffi awarded the winner with a special trophy, posing together in a professional photo shoot by Chiara Santaterra.
Straffi then took part in a talk dedicated to the Winx Club world, interviewed by journalist Andrea Morandi, followed by a meet & greet with the numerous fans who had come for the occasion.
The project was realised by Rainbow in collaboration with Epicos, a leading cosplay company and Milan Games Week & Cartoomics.